Callaway, Bridgestone, and Titleist are the brands to look for in 2014 if you want to play a golf ball made in America.
Manufactured in America:
Bridgestone Balls

13 models: B Series, e Series, & Lady Precept

Callaway Balls

(some Supersoft made overseas)

Many Titleist balls

(some are Chinese and Thailand)

Taylormade assembles some balls made of foreign parts in America.
Titleist let us down for the first time in 2014 when boxes of Titleist balls hit the market with "Made in China" and "Made in Thailand" on them. Until this year every Titleist ball ever made was the result of US manufacturing. Bridgestone currently makes most of their balls in America, including all of their high end golf balls. Both companies are headquar tered in Asia. Titleist is now owned by Fila of South Korea and Bridgestone is headquartered in Japan. Both companies are publicly owned.
Callaway was founded and headquartered in the United States. They are a publicly traded company and are producing all of their balls in the USA with the exception of a portion of their Supersoft ball.
In 2014 Bridgestone started an ad campaign promoting their increase in American production. A
commercial with David Feherty
shows off the Covington, Georgia facility. Bridgestone has produced balls in Georgia under the Precept and Bridgestone brands since the 1990s.
As of 2014, expansion at the plant in Georgia is complete. This has allowed Bridgestone to move production of all of their premium models (13 models: B Series, e Series, & Lady Precept). Prior generation models or product made prior to this transition might be foreign made. Check the side of the box to ensure you're purchasing American!
The increase in production at the Covington plant comes as they celebrate an important milestone. In 2013, Bridgestone Golf completed manufacturing of the company's 50 millionth dozen of golf balls. Since 1990, when Bridgestone began production of its golf balls in the United States under the Precept brand name, the company has produced more than 600 million golf balls at its Covington facility. If one were to line up 600 million golf balls side-by-side, the line of balls would cover 15,782 miles, stretching from Covington, Georgia to Tokyo, Japan and back.
Bridgestone has tried to carve out a niche in the
ball fitting category however the process is rather easy
. Their best balls are the B series balls, and if you can't afford them, try the e series.
CALLAWAY GOLF BALLS
The new Speed Regime golf ball is great, but I'm biased as I think that about everything that's American made. It's super easy to choose which Speed Regime ball is right for you.
Speed Regime 1
: Driver clubhead speed below 90. (drives less than 240 yards)
The new
Supersoft ball
is an awesome, softer feeling ball. It's for anyone of any speed, even though it's only a 38 compression. It is highly recommended for seniors, ladies, and juniors.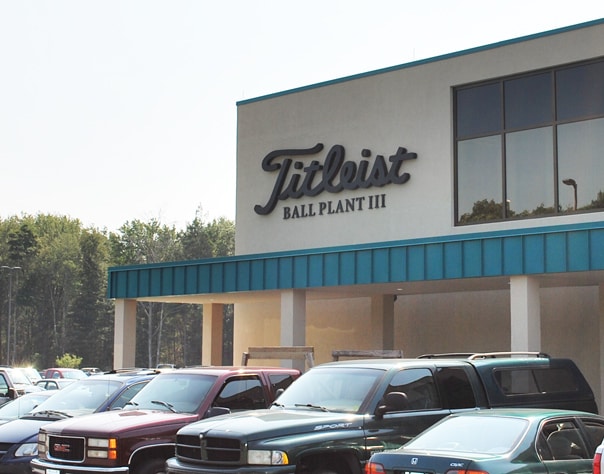 Buy Titleist balls
Please read the side of the box to ensure you are buying made in the USA.
Titleist
balls sold in America are now manufactured at 3 Massachussets ball plants: Fairhaven, North Darthmouth, and New Bedford. Additionally they are made in Thailand and China.
Taylor Made produces some of their lineup in America. But they don't have any balls that are completely American made. It's important that you read the box carefully to determine if you are supporting American
manufacturing and keeping more tax dollars and spending in the states!
As you can see in the above picture the
Taylormade Penta TP5
has a urethane cover made in America and the ball is assembled in America. 4 of the 5 layers of the ball are made in South Korea.
There are websites claiming to be selling other brands of golf balls made in the USA. I have heavily researched every box, site, and golf product in the industry and find no reason to believe they are other balls being manufactured in the USA.
Check out our
article about golf clubs made in America.